Hourly Rate - $85.00
Business and Phone Hours for JBD:
Monday - Saturday, 10am - 6pm
Joseph Browning
is a lifelong artist, classically trained in drawing and painting. He is also a writer and author of various newsletters, short stories, technical papers, and a workbook on how to manage feeling dynamics.
After receiving his BA degree in Illustration and spending 12 years as a professional fine arts painter and illustrator, he founded Joseph Browning Design (JBD) in 2000 to provide Graphic Design solutions to his growing number of clients needing these services.
Using digital applications such as Illustrator, Photoshop, Fireworks, and Dreamweaver, along with hand-coding HTML and CSS, digital photography, and technical writing, JBD is a full service design resource specializing in helping clients graphically define their products and businesses.
JBD is located in Sebastopol, CA and works with clients throughout Northern California and the United States.
Graphically defining
businesses & products
online and in print since 2000.
identity promotion advertising
Initial 60 minute consultations are always FREE. JBD works with clients via email, phone, or in the studio.
Joseph Browning Design
(JBD - formerly JB Pictures Design) excels at providing design services from concept to final product. The initial concept work is really the heart of most jobs and it holds the most value for the time put into it. The conception of the ideas to be utilized in the job go toward determining every aspect of the job.
Joseph is professionally trained in Digital Graphic Design, Illustration, Drawing and Painting and can create just about anything, utilizing various techniques, styles, moods and themes in order to get the job done.
For most jobs JBD can provide a "ballpark" cost estimate during the initial consultation. Some jobs get billed hourly, while others may be bid on for a total price.
On all jobs, JBD works transparently with clients by providing email samples that include the date, the time spent and what exactly was created, so that over time the client comes to understand both the process and how long things take to get done. The client is always aware of how much time is being spent and therefore what the job cost is as the job evolves. This allows JBD and the client to work precisely towards finished design artwork without any guessing or assumptions.
It is our job as a graphic design company to listen carefully to the client and to clearly establish with them what their needs are. JBD strives to create graphic design that both works for each client's business needs and that is aesthetically pleasing to the client and their customers. The goal of JBD is to satisfy our clients 100%.
JBD CASE STUDY
JBD and Teresa Bruno have been working together since 2012, creating and updating such things as the Client Assessment Notepads, Business Cards and the new Gift Certificates, as shown below. Working together over the years, both JBD and Teresa have gotten to know each other, and get to help each other broaden their business relationship while expanding on the client's brand. Knowing more about each other creates a working familiarity that speeds up the process of doing each new design layout. This "speeding up" process is key to ongoing working relationships as it reduces costs over time.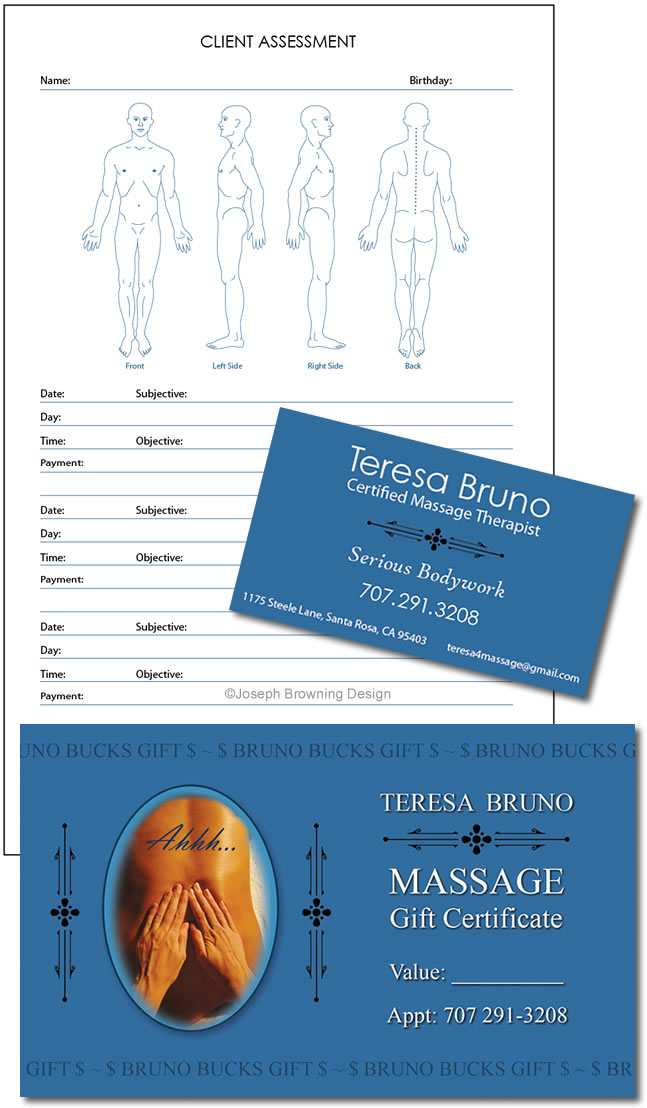 TESTIMONIALS
"Joseph Browning is just awesome at what he does. I should know as I hired him for many different jobs as I grew my business. Back in 2006 when I first started my window tinting business, JBD helped me build and create my website and did all the killer graphics for my site and different promotions I had over the years. Joseph and I originally met in a class we were both taking, and besides the work relationship we created out from that meeting, he has also become one of my good friends in life that I trust to have integrity both in his work and his life. JB is easy to work with, has really good communication skills to help get clear on what work needs to be done and in what order, plus he is just fun to work with, so I would always highly recommend Joseph Browning Design for top quality professional design and graphic artwork. If you are wanting to build your business, he is the man for the job." —Jeremy Creager, Perfect Darkness Window Tinting
"Hello Joseph, yes I received my new business cards and gift certificates. They look incredible. Thank you for helping me impress my clients with beautifully thoughtful marketing documents. Happy doing business with you!" —Teresa Bruno Massage
"Working with Joseph Browning was a treat! He was proficient and prompt from start to finish, answered all of my questions in a timely manner, and was great in guiding me through the process of figuring out exactly what kind of work I'd like to do, what type of client I would like to work with, and how to gear my advertising efforts towards that specific demographic. I'm happy to report that it didn't take long for my phone to start ringing, and now my schedule is filled with projects that I actually look forward to doing! I highly recommend working with Joseph Browning Design." —Roy Pales, Rustic Woodwork & Design
"Working with Joseph was a wonderful experience! He helped me figure out what I wanted my logo to express about my business, and then developed those concepts into an amazing finished product. I love my logo so much that I got a tattoo of it... I am definitely committed to my business' new look! I get compliments on my logo and newly designed business cards all the time. Not only am I completely thrilled with the finished product, but I am also impressed with how fun, fast, and affordable the entire process was!" —Laurel Scarioni, CPDT-KA, CNWI Pawsitive Results Critter Academy
"Hi Joseph, last year it became obvious to me that I needed a new logo but instead of going to a professional, I took a shortcut and had a logo designed online. What a mistake and a waste of money. Luckily I met you. Working with you has been a joy. You not only designed a logo but also helped me with branding for Facebook, business cards and banners. You listened to what I wanted and needed yet gave valuable input when needed. You worked efficiently and always met deadlines. Thank you again for all of your creative input. I look forward to working with you again in the future." —Chris, owner Chris Kittredge Photography.com
"Hey Joseph, a quick but heartfelt note of appreciation to you for the latest round of brochures! We received them on Thursday, and I think they are the best brochures that we have done to date – not just you and I, but LEAPNOW in general back to our early days." —Sam Bull, Executive Director LEAPNOW.org: Transforming Education