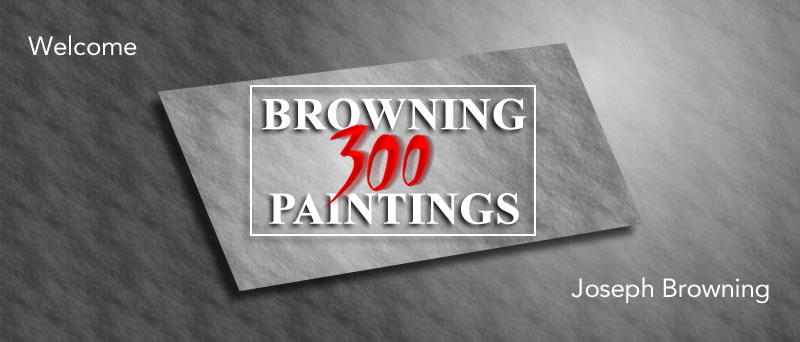 These pages are in the process of being created -- check back for updates.

NOTE: It's important to take your time looking at these paintings, to go slowly and let your eyes and brain digest them over time. I've never been interested in making paintings that are easy to take in or that are about one thing. I've always loved paintings that can be discovered and then rediscovered, seeing different things each time you look at them. This request is easier asked than achieved in today's abundance of too much information and having no patience or time to comprehend it all. Of wanting instant access to everything but not wanting to savor it much before jumping to the next accessible thing. It took me over 11 years to create these paintings so try not to look at them in 11 minutes or even 11 hours. This website is going to be here for a long time so there's no hurry and it will make a huge wonderful difference in the end.
♣ ♠ ♣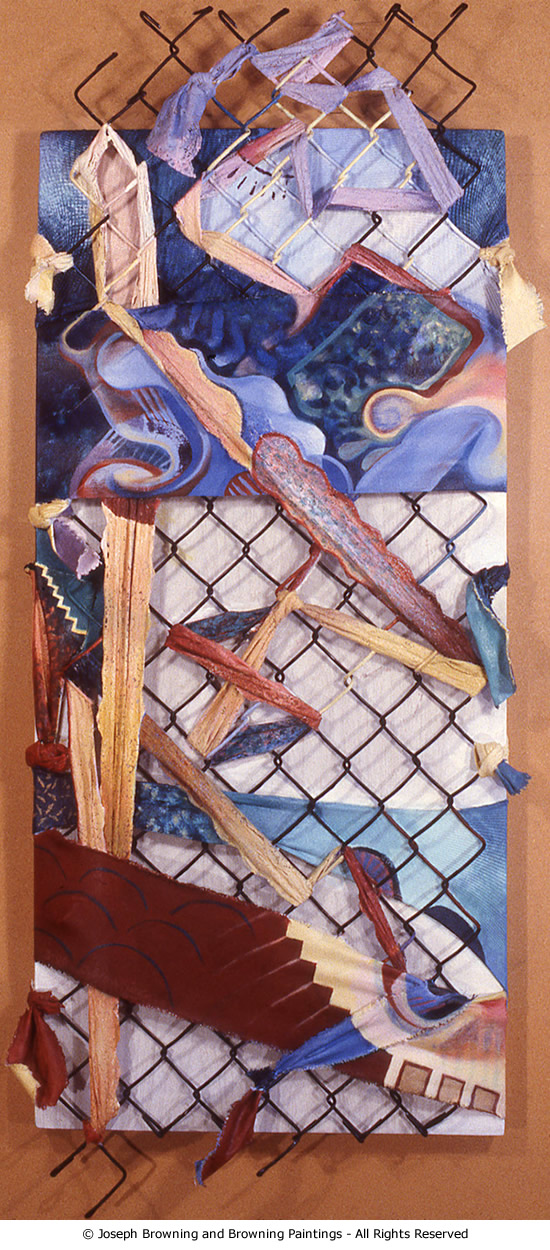 No. 041 - Everybody Shake, Let Not This Soldier Awake, Deliverance At Last
Acrylic on Formica, plastic-coated chain link fence, cotton and canvas - 51-1/2 in. x 21 in.
Broken Canvas No. 7
Saturday 3/31/1990 - Private Collection


I'm not a fan of people warring with one another for any reason. I have many opinions based on many facts around the state of our world and how we are often at violent odds with one another. Because of the relative complexity of millions of people sharing space together on this planet's surface, I don't pretend that any of my personal opinions add up to much more than a hill of beans, as they say. But since this is my painting and my website and I'm making the effort to put it all out there for you the gentle viewer, I will say that despite all the valid reasons for wanting to kill your neighbor, the whole idea of humans killing each other is just stupid. And it always has been stupid. Not for nothing, but still stupid. And since I have gone my whole life without ever physically harming another human, I know that its possible to negotiate anything with anyone without violence if I really want to. And yes, I really want to do that. Of course there are others that don't want to do that so I won't get to have it my way on this point. But this painting, for as heavy (solid wood laminated with Formica) as it is and as random (found chain link fence) as it appears, is simply a very strange and abstract cry for ENOUGH ALREADY.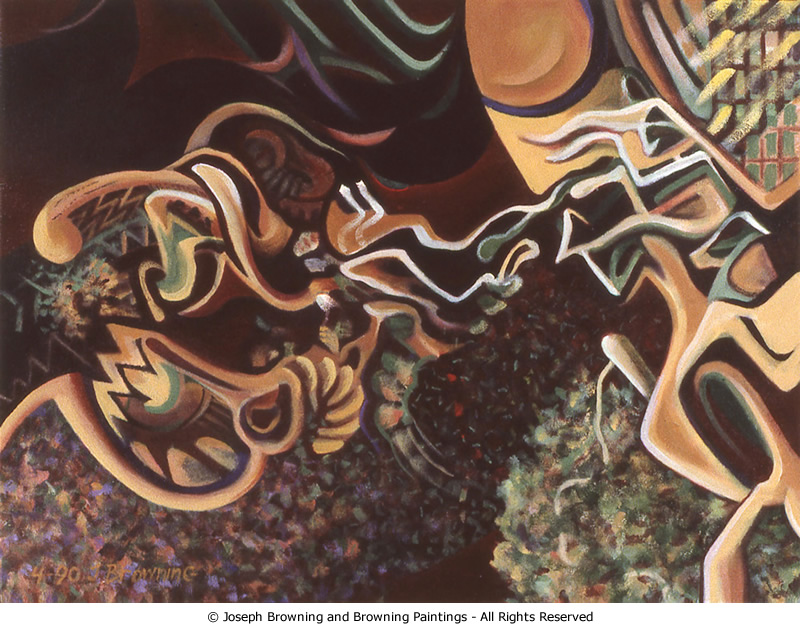 No. 042 - The First Baseball Game
Acrylic on canvas - 18 in. x 24 in.
Thursday 4/5/1990 - Collection of the Artist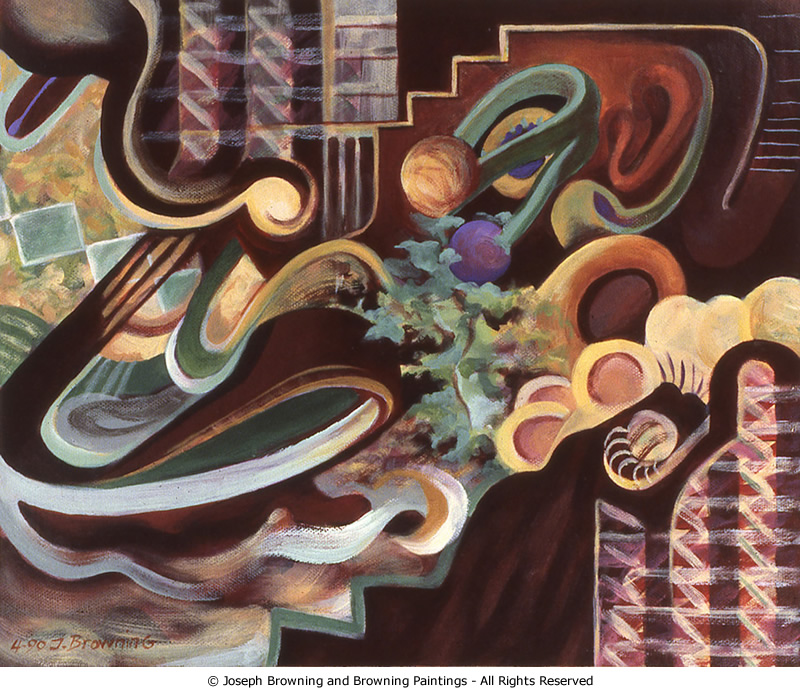 No. 043 - Court Jester And Her Salad Exist
Acrylic on paper mounted on wood - 18-7/8 in. x 23 in.
Tuesday 4/10/1990 - Collection of the Artist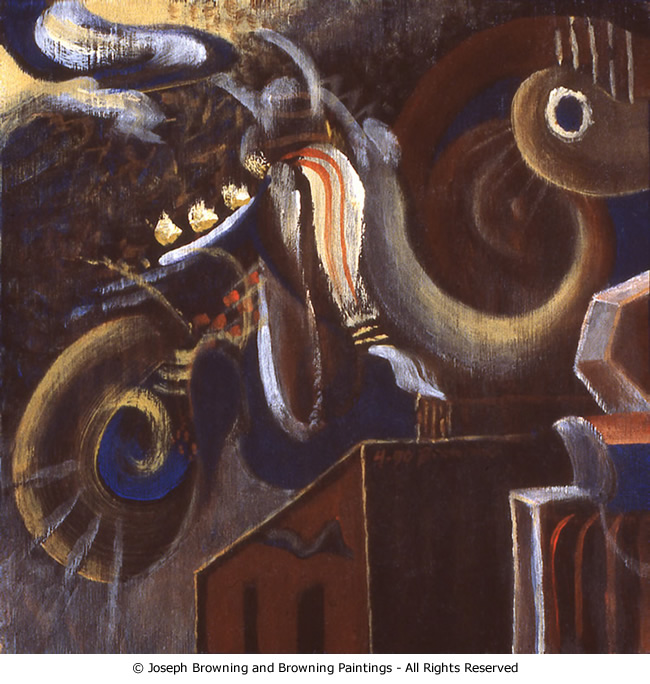 No. 044 - Up On Snail Hill After The Rains
Acrylic on plywood - 9-3/8 in. x 9-3/8 in.
Thursday 4/26/1990 - Private Collection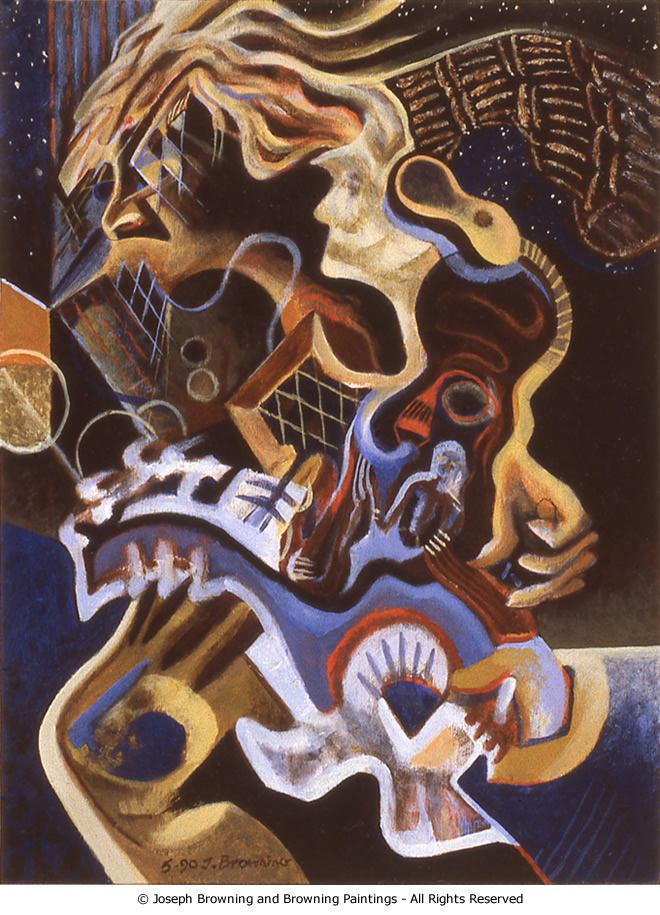 No. 045 - Every Guitarist Dreams
Acrylic on wood panel - 16 in. x 12 in.
Tuesday 5/1/1990 - Private Collection


One of my brothers is an exceptional guitarist. He's got that thing when he plays where he makes it look effortless, and along with the quality of his note choices I am always inspired when I listen to his playing. This is a painting for him, about him, because of his playing. Like the rest of my paintings it was created because it showed up in my mind's eye and demanded to be made next. Like each note in a blazing guitar solo, they demand your attention and your ear and set you up for the next one coming, as if you had no say in the matter. That's him, that's my brother.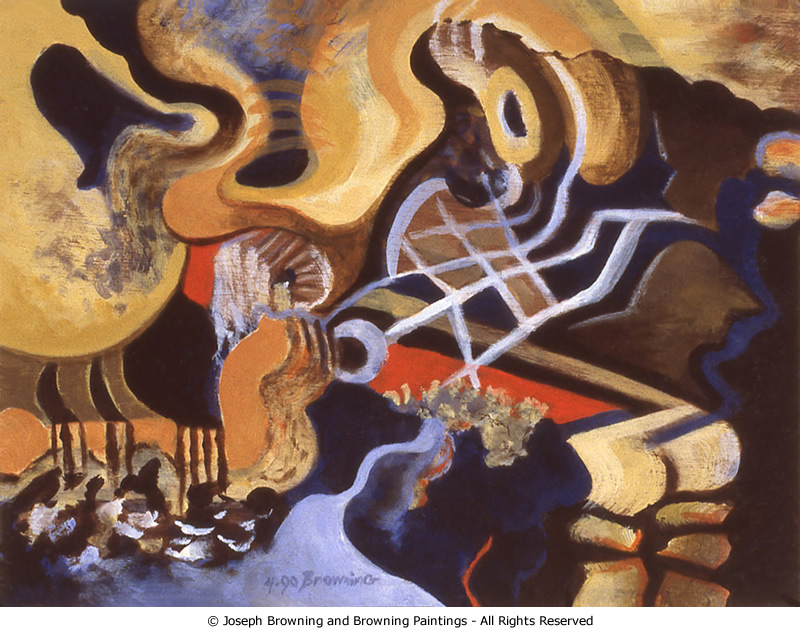 No. 046 - The Beginning And End Of Eternity
Acrylic on wood panel - 12 in. x 16 in.
Sunday 4/22/1990 - Collection of the Artist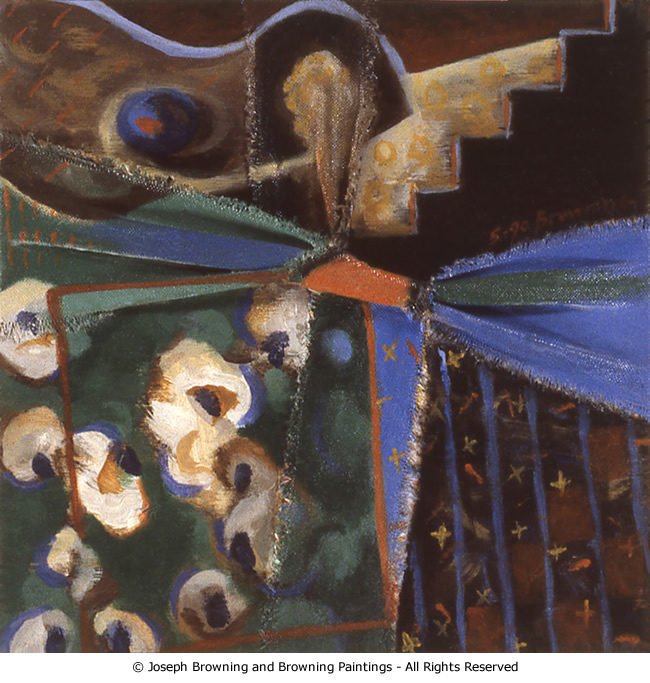 No. 047 - Falling Through The Window Of Sleep
Acrylic on canvas and plywood - 9-3/8 in. x 9-3/8 in.
Monday 5/7/1990 - Private Collection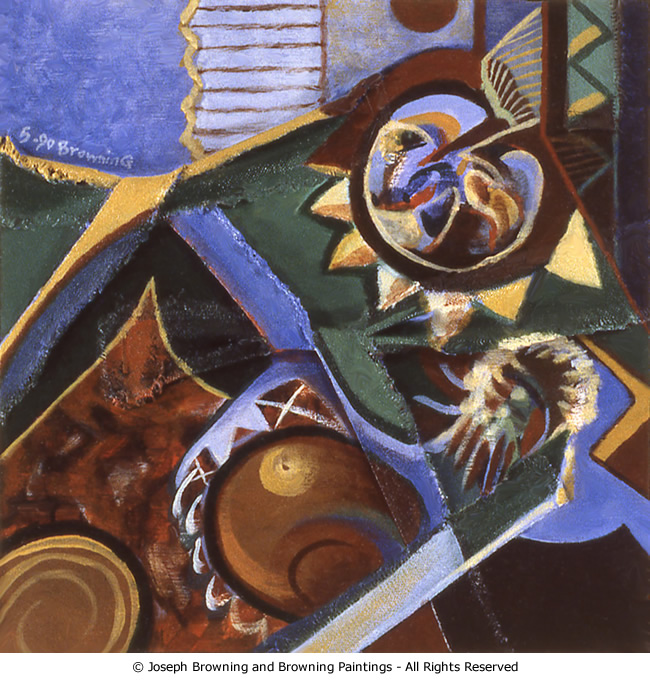 No. 048 - Back When It Was Really In Fashion
Acrylic on canvas and plywood - 9-3/8 in. x 9-3/8 in.
Tuesday 5/8/90 - Collection of the Artist


I don't know what this painting is nor what it's about. With the other paintings on this page I was able to decipher a somewhat knowable composition and story that is evidenced within their titles. But with this painting I never really knew what it was nor what I wanted it to be. There may be some sort of king-like face and some indication perhaps of his body (her body? Can women be kings too?) But ultimately it remains a mystery to me. And perhaps most other artists would never say what I'm saying here about a work of theirs that they didn't understand, but here we are.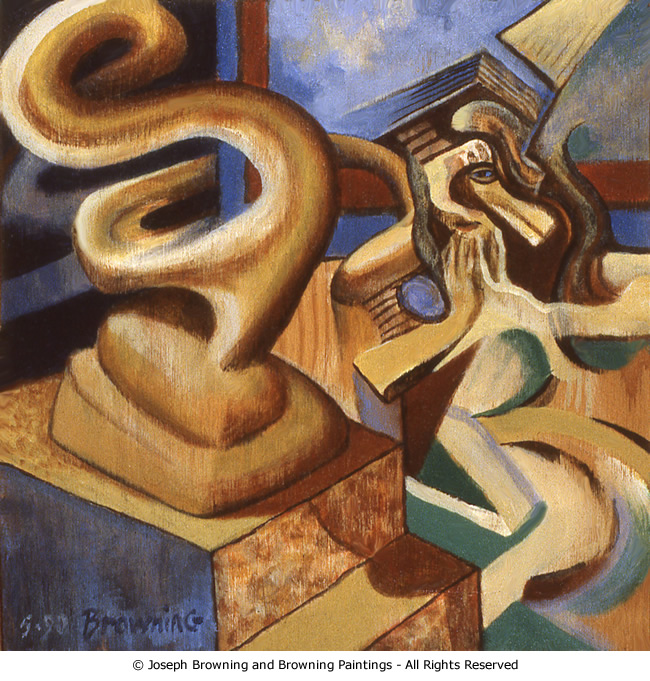 No. 049 - Sally With Her 'S'
Acrylic on plywood - 9-3/8 in. x 9-3/8 in.
Tuesday 5/8/1990 - Collection of the Artist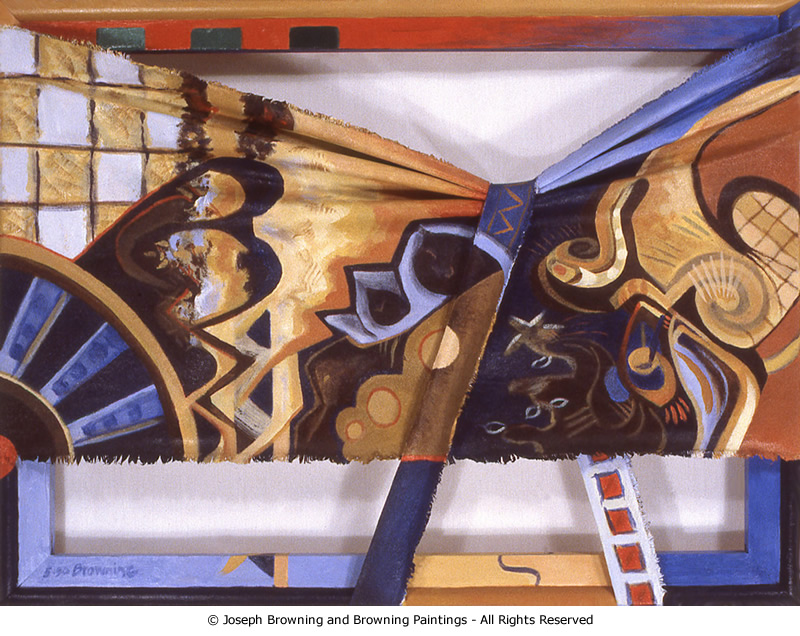 No. 050 - The Pursuit Of Perfection
Acrylic on canvas and wood - 18 in. x 24 in.
Broken Canvas No. 8
Friday 5/11/1990 - Private Collection
Copyright Notice: All rights reserved. No part of this website may be reproduced, distributed, or transmitted in any form or by any means, including photocopying, recording, or other electronic or mechanical methods, without the prior written permission of Joseph Browning. For image use permission requests, send an email with the subject line "Attention: Permissions Coordinator," to jb@josephbdesign.com. NOTE: All images contained in this website are being tracked and monitored for copyright infrigement use.