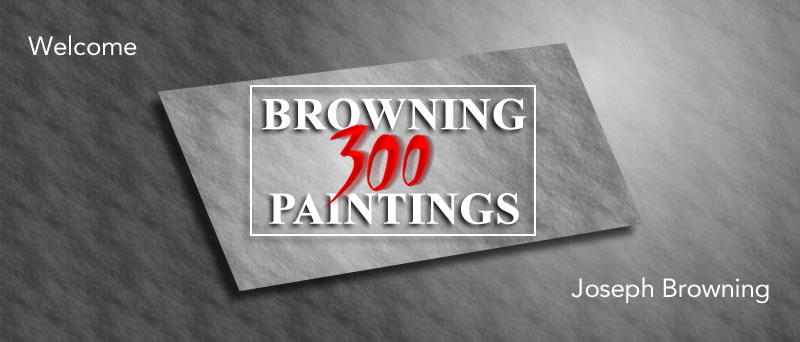 These pages are in the process of being created -- check back for updates.

NOTE: It's important to take your time looking at these paintings, to go slowly and let your eyes and brain digest them over time. I've never been interested in making paintings that are easy to take in or that are about one thing. I've always loved paintings that can be discovered and then rediscovered, seeing different things each time you look at them. This request is easier asked than achieved in today's abundance of too much information and having no patience or time to comprehend it all. Of wanting instant access to everything but not wanting to savor it much before jumping to the next accessible thing. It took me over 11 years to create these paintings so try not to look at them in 11 minutes or even 11 hours. This website is going to be here for a long time so there's no hurry and it will make a huge wonderful difference in the end.
♣ ♠ ♣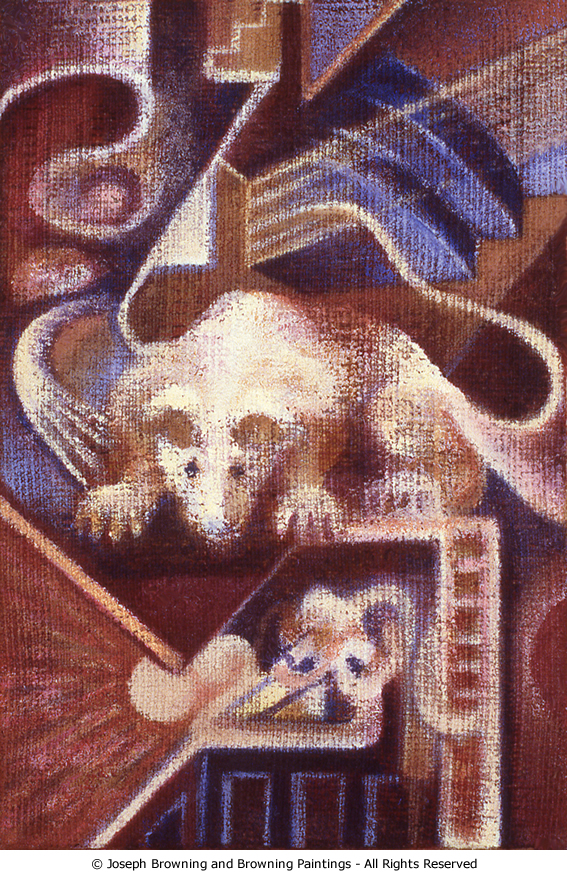 No. 021 - The Last Thing You'd Expect On A Sunny Day
Acrylic on wool carpet - 18 in. x 12 in.
Saturday 5/27/1989 - Private Collection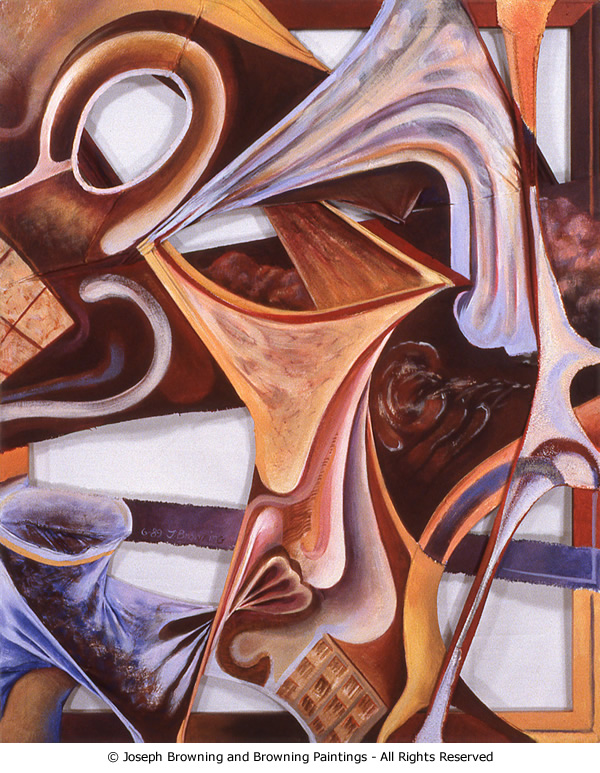 No. 022 - The Incredible Costs of Daydreaming
Broken Canvas No. 4
Acrylic on stretched cotton and canvas - 44 in. x 36 in.
Friday 6/2/1989 - Collection of the Artist


The Incredible Costs of Daydreaming above marks the first time I purposefully stretched a canvas with holes in it or indeed a "Broken Canvas." Using a mixture of old shirts and canvas pieces, I had fun creating the initial sculpture of just the pieces of material intersecting with each other over the stretcher bar frame. After I painted the entire initial structure in white gesso I stood back and appreciated it as if it were an ancient white marble carving, beautiful just the way it was without a hint of color. The real challenge lay ahead of me in determining what to paint in color over this new dynamic three-dimensional surface. Prior to this painting, I had never seen any other painter attempt this kind of work. It felt brand new and unique to me and to my experience as a painter. I had to warm up to it, to coax it, to learn its language in order to be successful in my attempt to create some kind of composition with it. Just because I stretched it and gessoed it didn't mean I knew how to paint it.

But with this first truly "broken" canvas I got lucky because the colors, forms and composition didn't fight me. I didn't get hung up or confused or frustrated as I would in some of the paintings that followed this one. I decided to let the material literally become parts of the painted composition, while painting other elements directly on the cotton and canvas pieces like a regular painting. The sculptural aspect of this painting determined as much of the composition as the "painted" parts. Prior to this painting I had no idea this kind of compositional combining was even possible. So of course I was delighted with the final outcome. This one speaks to me in a language that I couldn't have consciously come up with, but indeed screams at me from it's own abstraction and from it's own pure immediate existence.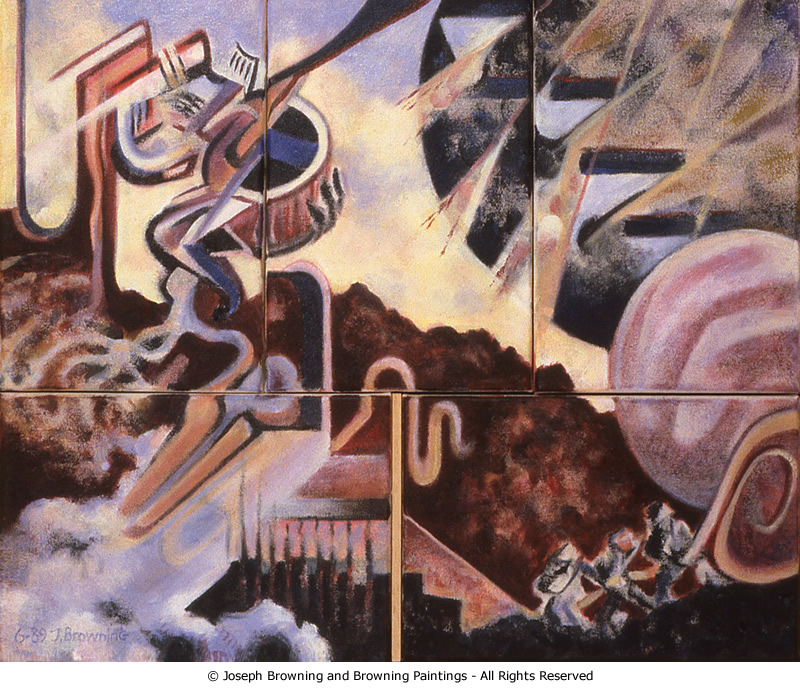 No. 023 - Let Not The Past Remind Us
Acrylic on 5 small canvases - 20 in. x 24 in.
Friday 6/23/1989 - Private Collection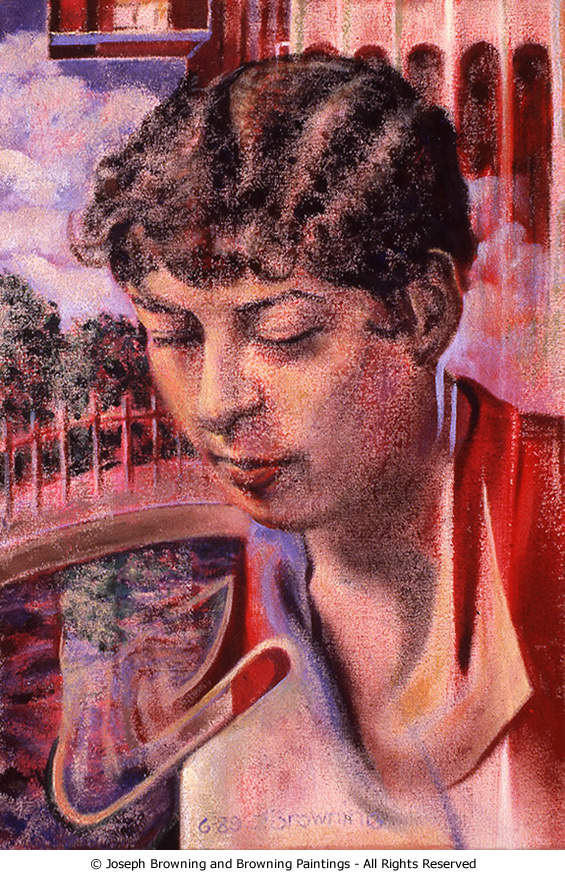 No. 024 - Painting For Aldura Browning
Acrylic on canvas - 18 in. x 12 in.
Wednesday 7/5/1989 - Private Collection


I used to love going over to my grandmother Aldura's large Victorian house on Chestnut Street in San Francisco as a boy. She was my father's mother and also was an artist, creating various types of pottery in the basement of that grand old house. She and I had a connection that I didn't fully realize until I was a bit older, and by the time I really understood what we shared she was gone. She always encouraged me to keep drawing whatever I wanted, already knowing what I was capable of due to my ongoing desire to draw pictures of monsters and houses when I was at her house. I drew a lovely picture in crayon of a row of houses with the street and cars parked in front of them and gave it proudly to her feeling that it was perhaps my finest drawing yet. The next time we visited she had it framed and hanging in her kitchen where she loved spending time cooking and baking for us. I could hardly believe it when I saw it hanging there and it touched me in a profound way. Aldura was always teaching me about the world and about how to get practical things done, as if she knew I wasn't learning such life lessons from my parents. She showed me a kind of love and respect that still resonates with me today.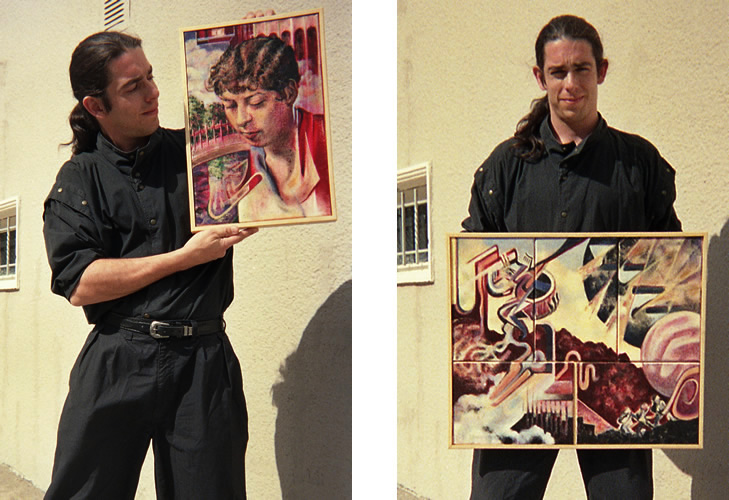 With Nos. 024 & 023 outside my first apartment with Olga on Shrader St. in San Francisco, 1989
No. 025 - The Artist In His Studio
Acrylic on canvas - 18 in. x 12 in.
Friday 7/7/1989 - Private Collection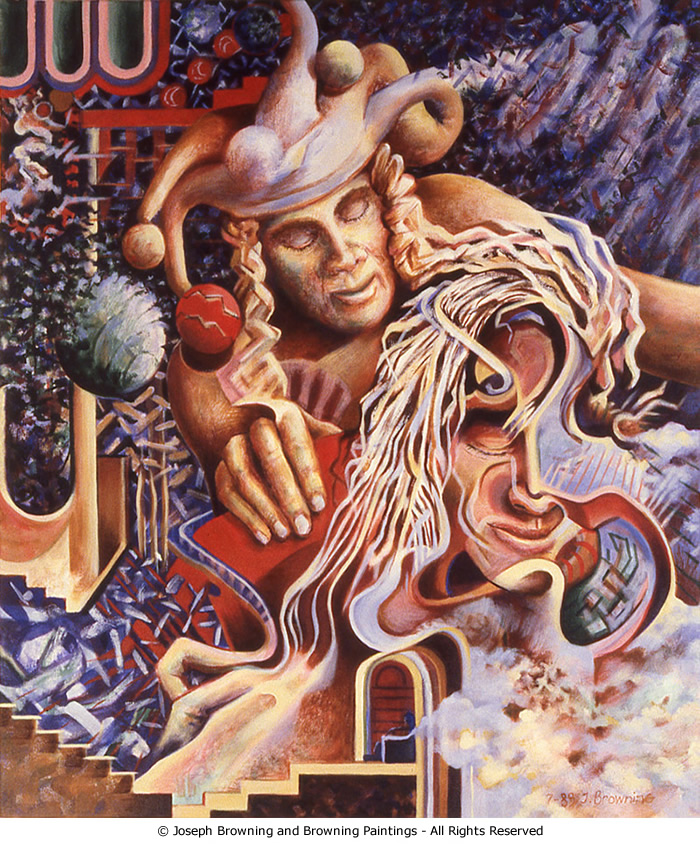 No. 026 - Time Means Nothing Here
Acrylic on canvas - 42 in. x 36 in.
Monday 7/31/1989 - Collection of the Artist


Time Means Nothing Here introduces my Jester Spirit Guide, who suddenly appeared behind me in this self-portrait. Like most of my paintings, things and beings would simply appear as I painted, and then gradually introduce themselves to me as the painting progressed. The great thing about being a creative "vehicle" through which the inspired energy flows is that it feels mostly subconscious in nature. It's not just me who's doing the craft and making the paintings. And so I'm sometimes as surprised as the objective viewer is, except of course I'm the one bringing the painting forth for other viewers to see. I guess what I want to say is that there's no concrete sense of my ego at play herein, and that means something rather profound to me. Creating something out of nothing is such a gift, a blessing, a gratitude, and an unknown. Being creative begins in the unknown and through time as I paint becomes slowly known, or at least becomes seen. My paintings are not clear representations nor are they about "something." They exist to offer glimpses of things in play and in development, to open into themselves for others to see and feel without ever needing to close or to end.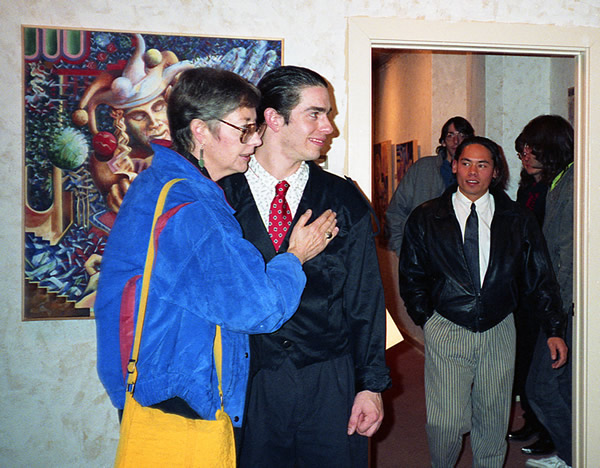 My mother Carol Ann (RIP) with me and No. 026 at my first Solo Show in Oakland, 1990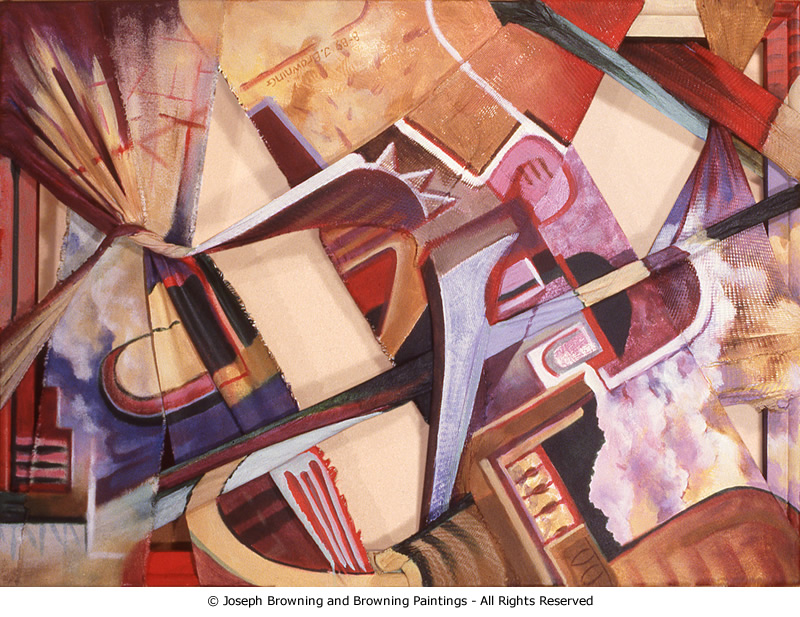 No. 027 - Anger Is A Futile Movement
Broken Canvas No. 5
Acrylic on stretched cotton, canvas and wood - 26 in. x 36 in.
Monday 8/14/1989 - Collection of the Artist


Anger Is A Futile Movement required me to rotate the painting in order to fill in all the three-dimensional spaces with paint and to determine what the composition would be. As I turned it and painted it the "image" also became sort of three-dimensional in that it can be viewed in all four directions and still make sense. I didn't consciously plan it this way, it's just how it arrived. I sold this painting to my friend Jake's father at my show, and while he was delighted to own such a unique art piece, he seemed visibly annoyed when I said that he could hang it in any direction he wanted. I was reminded on that evening at my show that what tickled my fancy didn't always please someone else, no matter how inconsequential it was to me.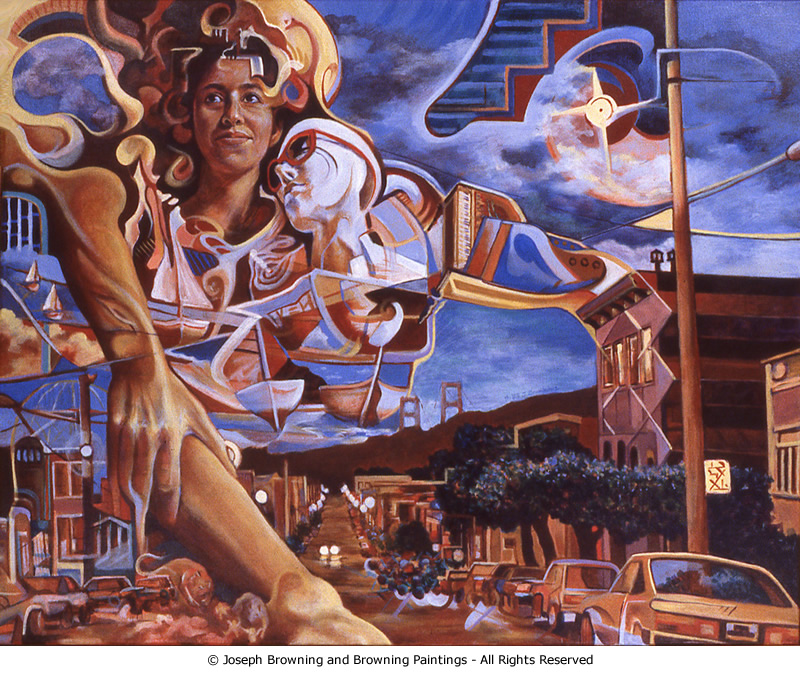 No. 028 - When Passion Exceeds Numbness
Acrylic on canvas - 32 in. x 40 in.
Wednesday 9/20/89 - Private Collection


I got lucky when I first encountered Olga at the California College of Arts and Crafts. I noticed her extraordinary beauty when she and her friend walked into the same Children's Literature class I was in. I, of course, loved to share my insights about the books we were reading in class and did so routinely, while Olga remained tight lipped and quiet. I actually couldn't understand how she could get a passing grade in that class without speaking up, yet she did. So while I wasn't able to get a read on who she was during that class, I was clearly smitten and spoke often of her to my buddies as we approached the end of our time attending CCAC together. After college I discovered that she worked at the local art supply store in San Francisco, and after asking her out to coffee we became fast friends. In time our friendship blossomed into love, a love like none I'd ever experienced before I met her. Painting No. 028 in its realism, surrealism and abstraction is simply a celebratory testament to this love we shared while dating and living together in San Francisco.
No. 029 - All This And More (To Come)
Acrylic on canvas - 42 in. x 48 in.
Thursday 11/23/1989 - Private Collection
Olga with No. 029 at my first Solo Show in Oakland, 1990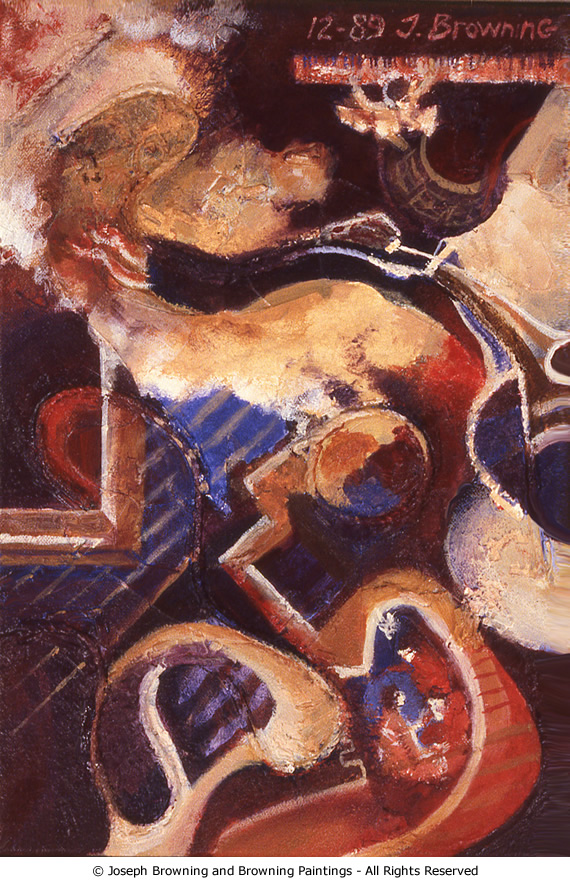 No. 030 - Come Swift, Come Silent
Acrylic on noodles, string, paper and canvas - 12 in. x 8 in.
Sunday 11/26/1989 - Private Collection
Copyright Notice: All rights reserved. No part of this website may be reproduced, distributed, or transmitted in any form or by any means, including photocopying, recording, or other electronic or mechanical methods, without the prior written permission of Joseph Browning. For image use permission requests, send an email with the subject line "Attention: Permissions Coordinator," to jb@josephbdesign.com. NOTE: All images contained in this website are being tracked and monitored for copyright infrigement use.