Arriving on the Japan/USA toy market in 1968 and produced until 1974, Tomy's inventive and simply fun Grippidee Gravidee series of Space Ship related 3-D track sets flipped the script on what a battery powered toy could do. Created for the younger user, Grippidee Gravidee provided a more creative and space-age-slow alternative to the popular Slot Car Racing of the day. The first Single Rocket Car GG sets were simple and elegant in design and form, requiring the user to first build one of many different layouts, and then easily set the Rocket moving along the chosen layout. With the automatic turn-arounds, all you had to do was build it, turn the rocket on and watch it go.
I will repair your non-working GG vehicles starting at $75.00 plus return mailing cost per vehicle. Payments are made via
PayPal.com
. Repairs may include reviving the motor, installing new gears and grease in the gear box, and replacing drive wheels. Terms: The minimum cost on any completed repair job will be $75.00. An initial $50.00 payment via PayPal is made along with mailing the vehicle to me. Please wrap your vehicle in bubble wrap or similar to insure its safety during shipping. I'll determine the amount of work necessary to restore the vehicle and communicate the final repair cost to you via phone or email. Once the final price is agreed upon, I'll complete the work on the vehicle and email you a video link via YouTube.com showing proof of the working vehicle. Then the final payment plus return shipping cost via PayPal is made. Once your PayPal payment is confirmed, I'll ship the repaired vehicle back to you. If I cannot repair the vehicle for reasons that exist outside the scope of work normally required to complete a repair, I will refund your initial PayPal payment, minus the cost of the return mailing. For more details, contact me at:
jb@josephbdesign.com.
For Christmas 1968 I recieved a strange toy with a battery powered spaceship that would lock into dark blue plastic track pieces and follow the path of the track on little spur gear wheels. I don't remember if I specifically asked for the toy or if my folks just thought I'd like it for one of my gifts. I remember loving it because it required me to assemble the track into various configurations, and then allowed me to set the Rocket Car in motion, following the track in whatever way it flowed, even vertical and upside-down! I'd never before seen a toy like this, and for years afterwards I remembered this toy and the hours of fascination it brought me.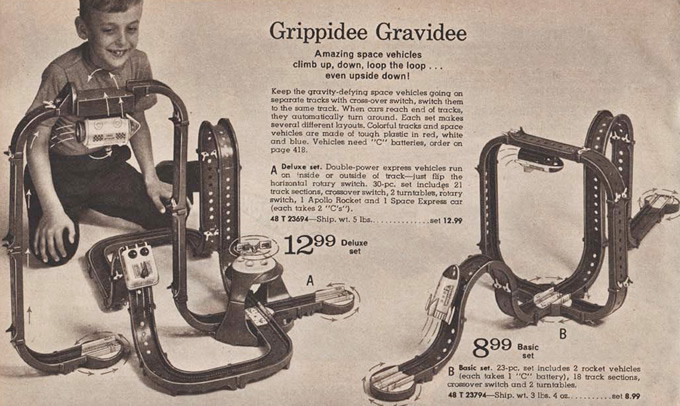 This toy was reluctantly left behind during a move when I was about 8 years old, and for a very long time I would recall the toy and smile at the memory. Over the years, I forgot the name of it, but remembered the little Rocket Car and the dark blue connecting track pieces.
Fast-forward to 2014 with the advent of the internet, Google.com and Ebay.com. After doing a few searches of "toy with blue track and space ship" and other such entries, I found what I had been missing for over 45 years. The internet provided me with not only access to the potential of buying another one of these sets, it also provided me with multiple photos of the variety of GG sets that Tomy produced that I had never before known about.
Of course this discovery started an ongoing personal journey of finding and collecting and repairing all kinds of GG sets. And while I was discovering and learning about this fabulous toy, I was also trying to re-discover which set I had as a kid. After some time I came across a Deluxe Set that looked familiar and it was suddenly available on Ebay as a Buy It Now sale, so I bought it immediately.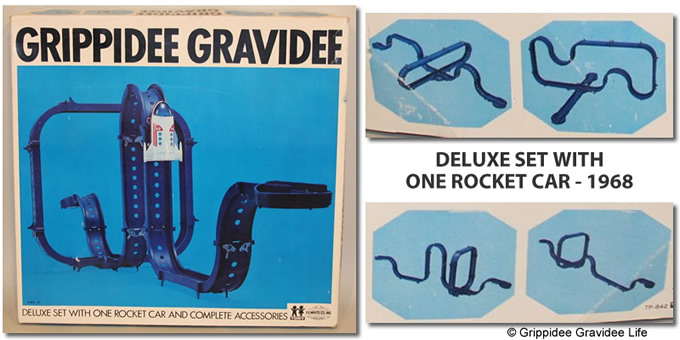 This set, in addition to looking a lot like the one I had as a kid, also included the often discarded and therefore rare cardboard insert that originally held all pieces in place for shipping and handling from Japan to its US retail destination. For the first time in my collecting I was able to see and understand what a truly complete set looked like. And this set is as near mint as they come these days, so that was also an exciting and pleasant surprise.
Another part of this journey has been repairing the various types of vehicles that Tomy utilized in their many variations of this toy. It took me quite some time to first understand the basic gear box assembly and how the various axles and gears worked together to produce the action of vertical climbing and descending, not to mention the wonderful upside-down and 90 degree sideways movements.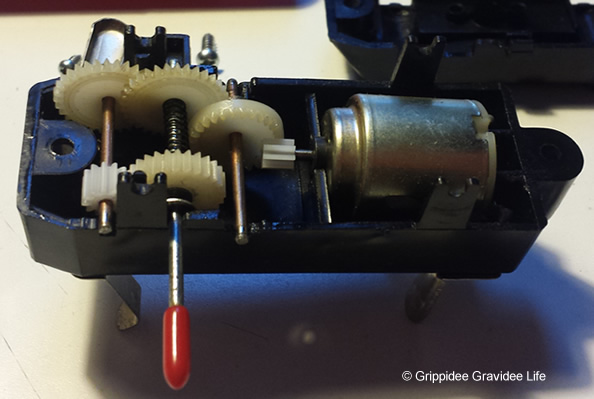 What struck me most was learning about the ingenutiy of the overall design of both the vehicles and the track they engage with. The whole toy is meant to fit together tightly and precisely, and if anything from the gears to the track pieces don't fit properly, the toy won't function correctly. There are beautiful and fastidious qualities that I find inherent in most Japanese produced toys, and these qualities are abundantly present in the complete line of Grippidee Gravidee toys.
Alongside my repair journey with this toy is the creation of videos and a Grippidee Gravidee YouTube.com channel to showcase them, as well as selling the only truly working GG sets on Ebay.com. Making videos is just a whole bunch of fun, and works jointly with the occasional sale of the GG set being showcased in the video. It gives me great delight to share my skills as a repair man and a videographer with other GG collectors out there. Now that I know what I know, I want to share the joy that comes with actually getting these toys to work as they originally were designed to.
I also created two other reference web pages: On Ebay there's a Grippidee Gravidee Time page that shows various GG Sets, along with other toys that relate to GG, that have been sold there. Each entry has a short description and photo of the toy.
On Google + there's a GG World page, which is a companion page to the YouTube Videos Channel page, that focuses on tracking recent GG sales results from Ebay. This page has multiple photos per post and details about each set sold.